Flan de Calabaza – Pumpkin Flan
Nothing screams fall like PUMPKIN! And this pumpkin flan, or flan de calabaza as we call it, is the perfect fall dessert that everyone will love.
But I have to confess, the first time I tried anything with pumpkin I was in my 20's! I know, crazy right!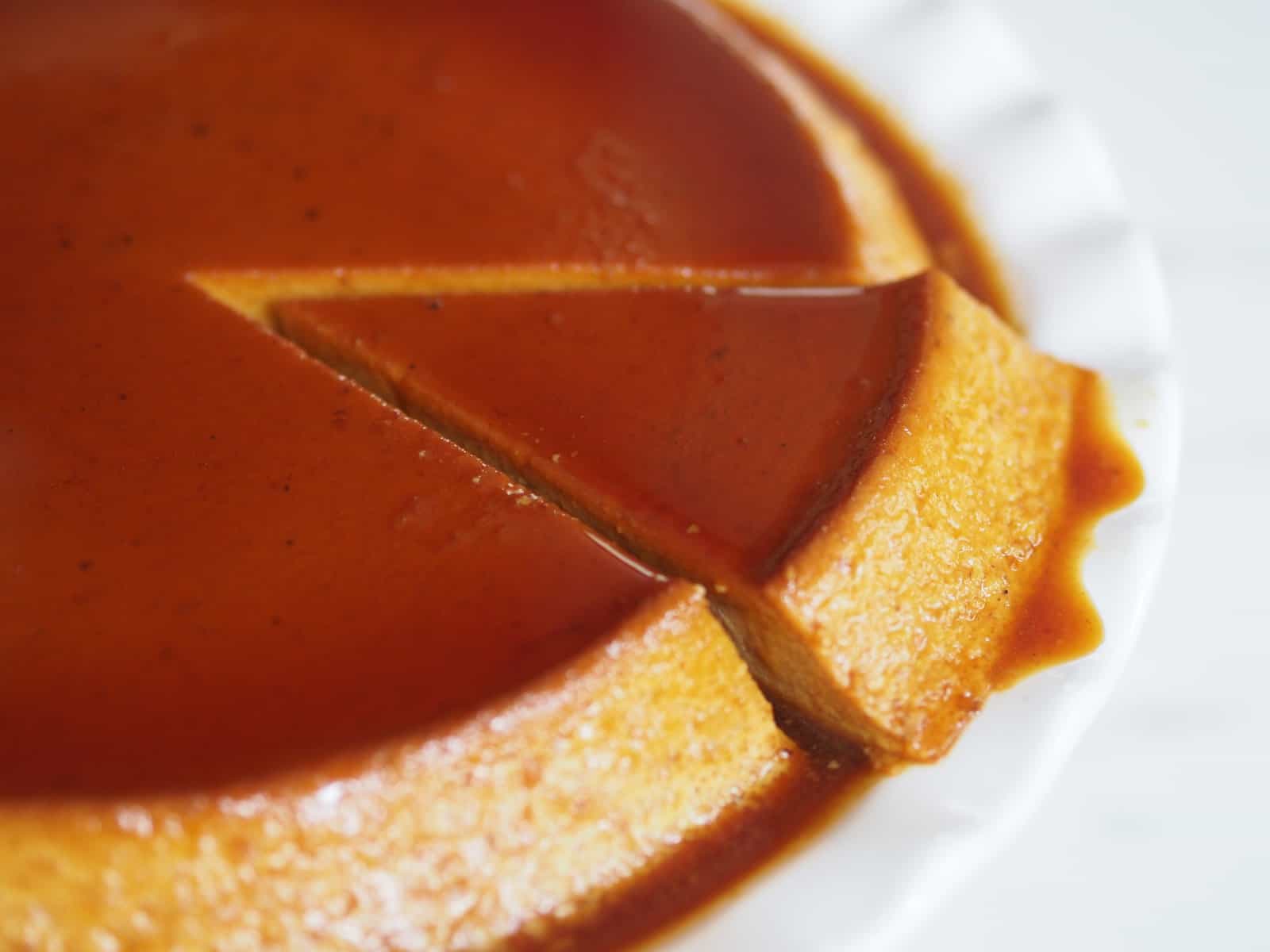 I grew up eating flan at every family gathering. From birthdays to Christmas Eve, we knew if we were at my grandma's house there would be flan for dessert.
Now compared to other Cuban families around me, my family assimilated well into American culture. We mostly spoke English at home, ate all kinds of cuisines, and celebrated American holidays with mostly traditional American cuisine.
And although we did the traditional Thanksgiving meal, we never had anything with pumpkin. So we did the turkey, green beans, stuffing, and potatoes but for dessert – it was flan. Just regular plain flan. Not even with a fall twist.
The first time I tried pumpkin pie was at a friend's house, and with a lot of hesitation. I didn't know what to expect lol.
Now that I have experienced Thanksgiving in other households as an adult, I appreciate other fall dishes like pumpkin pie, pecan pie, and butternut squash soup.
And I decided to start making flan de calabaza for fall. If you've never had flan, you're in for a treat. And this pumpkin flan actually tastes a lot like pumpkin pie without the crust. It's creamy, has a hint of pumpkin, and a touch of sweetness from the caramel on top. So if you're already a pumpkin pie fan you'll love this.
This recipe is a bit different from the traditional flan de calabaza they used to make in Cuba. For one, I use canned pumpkin because let's be real, it's 2020 and nobody has time for roasting and pureeing a pumpkin.
It also has condensed milk instead of fresh milk because it's just much easier, and delicious. Pretty much everyone makes it with condensed milk nowadays anyway, even my grandma.
I also don't use pumpkin pie spice because I don't want it to taste like pumpkin pie. So I just add some cinnamon and nutmeg to complement the pumpkin.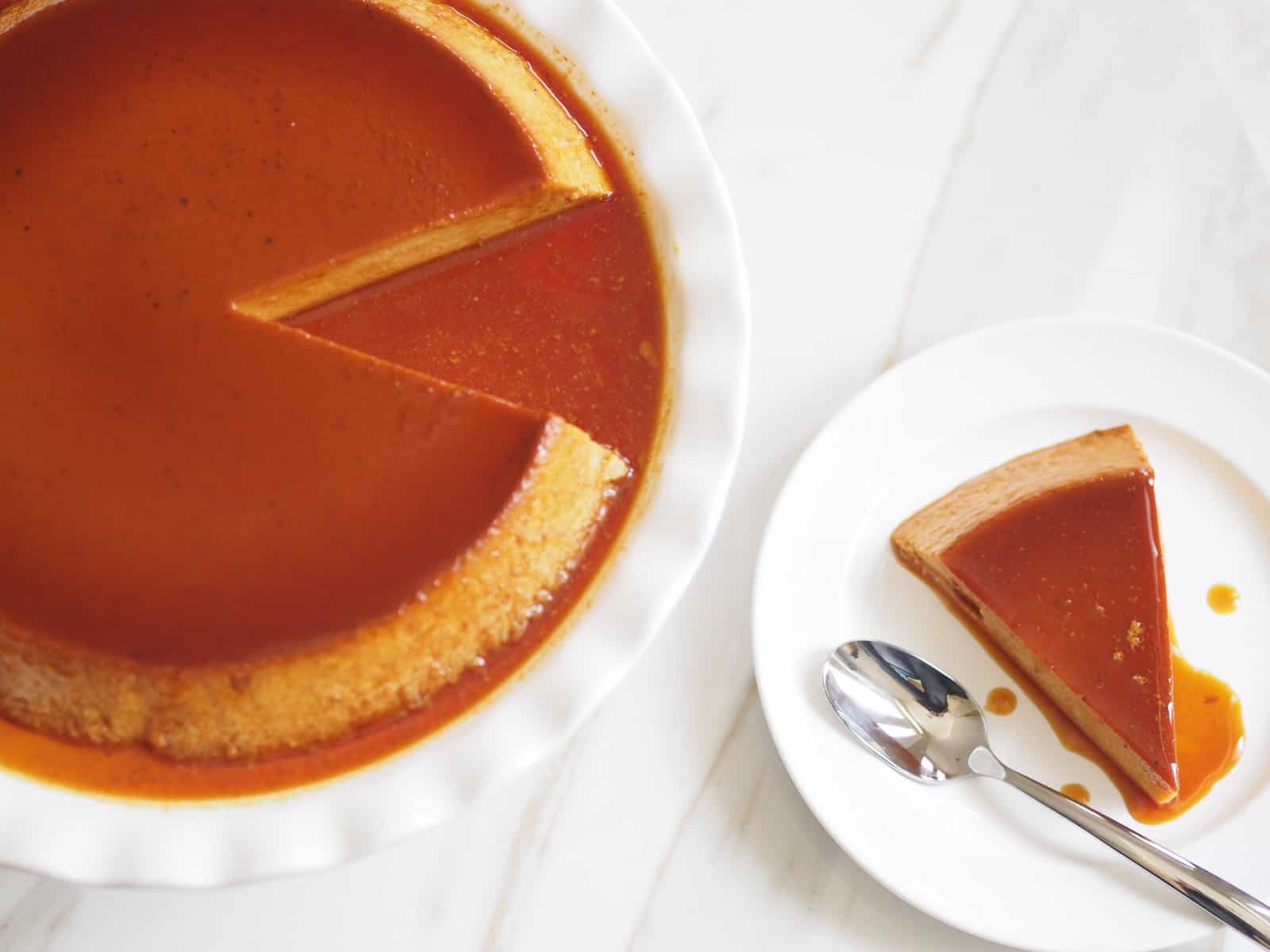 Tips for making Flan de Calabaza
There are a few things you want to keep in mind to ensure your pumpkin flan is as delicious as possible.
1. Don't burn the caramel.
The first few times I made flan I struggled so hard with the caramel. I kept burning it because it just takes you turning away for 10 seconds and bam, it's ruined and you have to start over.
Don't make the same mistake. Follow the directions and DON'T LOOK AWAY!
2. Don't overcook it.
Make sure you cook it in the water bath at the temperature instructed. Cooking it at a higher temperature can make it grainy.
3. Don't over mix it.
Mix it just enough to incorporate all the ingredients. Too much mixing creates air pockets.
You also don't want to mix the caramel too much while it's cooking to prevent crystals from forming.
Yield: 12
Flan de Calabaza - Pumpkin Flan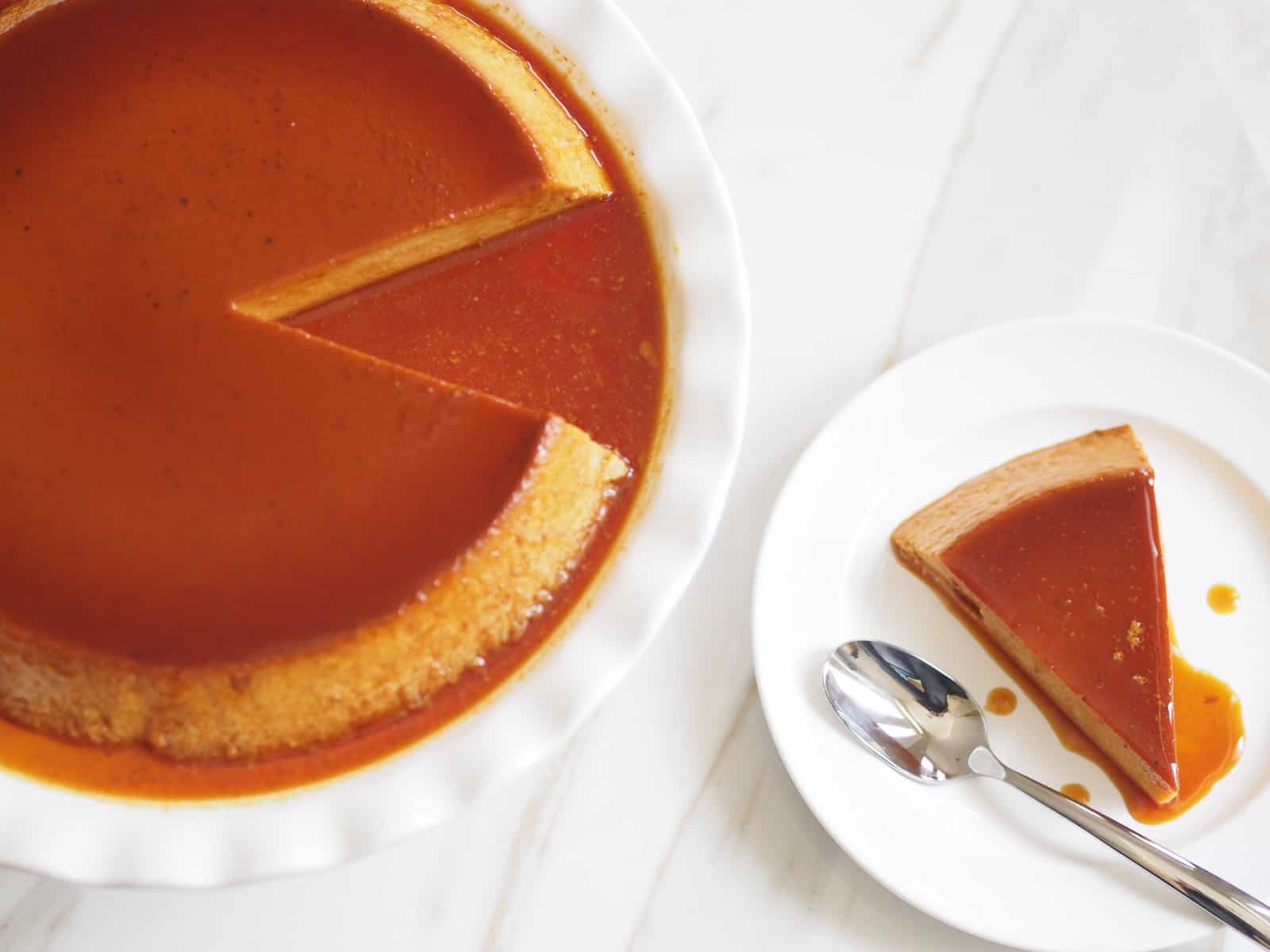 This delicious pumpkin flan is a fall twist on a classic Cuban dessert that everyone will love.
Total Time
13 hours
20 minutes
Ingredients
1 cup sugar
1 12 oz can evaporated milk
1 12 oz can sweetened condense milk
1 15 oz can pumpkin puree
5 eggs
1 tsp vanilla extract
1/4 tsp nutmeg
1/4 tsp cinnamon
pinch of salt
Instructions
Preheat oven to 350F.
Heat the sugar in a saucepan over medium heat until it caramelizes. Mix it a few times to help it melt evenly. Once it's brown, immediately remove from heat and pour into a 9-inch round pan. Set aside.
Beat the eggs lightly in a bowl and add the remaining ingredients. Stir well.
Pour the flan mixture into the pan with the caramel sauce.
Make the water bath by placing the flan dish into a large roasting pan and pouring water into the roasting pan (not the flan) until it reaches halfway up the side of the flan dish.
Bake uncovered for 45 minutes to 1 hour, or until it is set. You can insert a toothpick to check if it comes out clean.
Let flan cool and refrigerate overnight.
Unmold by running a knife along the edge of the pan and carefully invert onto a large platter.
Notes
Remember to keep an eye on the caramel and don't over mix the flan.
Nutrition Information:
Yield:
12
Serving Size:
1
Amount Per Serving:
Calories:

165
Total Fat:

5g
Saturated Fat:

3g
Trans Fat:

0g
Unsaturated Fat:

2g
Cholesterol:

89mg
Sodium:

90mg
Carbohydrates:

24g
Fiber:

1g
Sugar:

23g
Protein:

6g
Let me know in the comments if you give this recipe a try! I hope you enjoy it.
Please share and pin!