Cuban Empanada Recipe (Empanadas Cubanas)
If you're not familiar with Cuban empanadas, they are delicious hand pies filled with a spiced ground beef mixture and green olives.
Cuban empanadas hold a special place in our hearts, as they bring flavors that are both comforting and nostalgic. It's hard not to reminisce about our abuelas, patiently making these savory treats for birthdays and family gatherings during our childhood.
In this Cuban empanada recipe, you will find tips and tricks to capture that authentic taste and texture.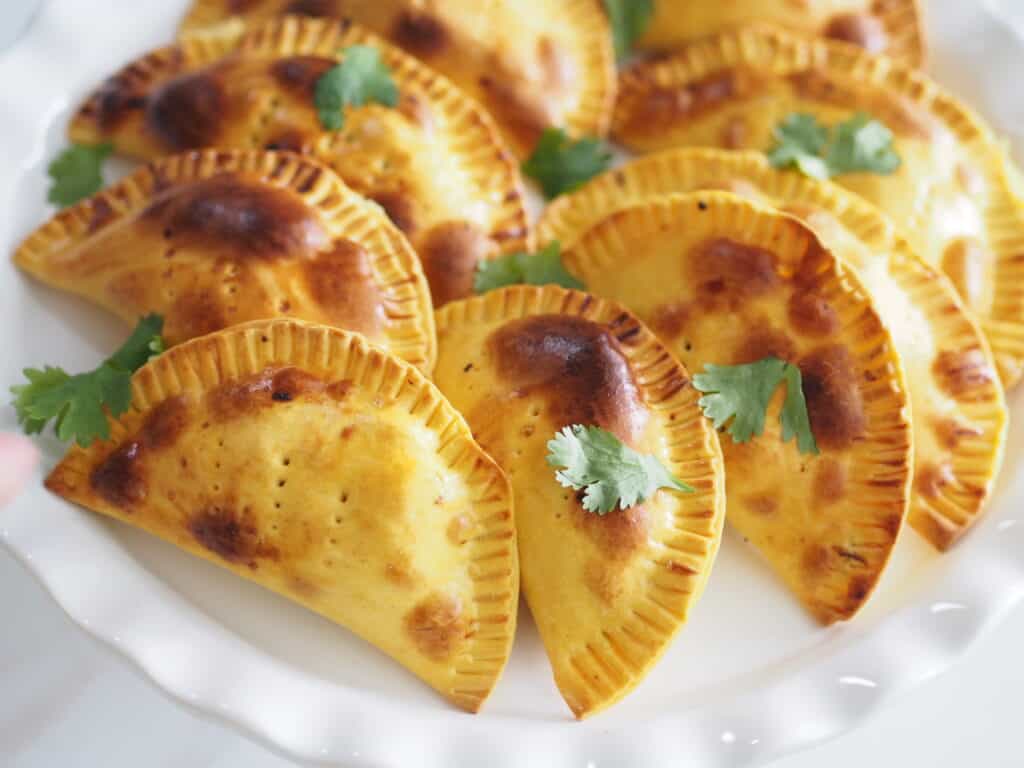 What is an Empanada?
Empanadas are a popular Latin American and Spanish dish, and Cuban empanadas (empanadas Cubana) are particularly delicious. They are essentially hand-held pastries filled with various ingredients.
Empanada Dough
Cuban empanada dough is typically made from flour, water, and fat, such as butter, lard, or shortening. This creates a tender, flaky pastry that holds up well when filled and fried or baked. Some recipes may include egg and/or sugar for added flavor and texture.
To make the dough, you will typically mix together the dry ingredients, cut in the fat, and then add water to form a pliable dough. Once the dough has rested, you will divide it into smaller portions, roll it out, and fill it with your choice of delicious ingredients.
If you prefer not to make your own dough, premade pastry dough can be used instead. They are typically sold in the frozen section of the supermarket. Just be sure to let them defrost before you start making the empanadas.
Picadillo Filling
The most common filling for Cuban empanadas is picadillo, a flavorful, savory ground beef mixture. The beef is typically cooked with onions, green bell peppers, garlic, bell peppers, and a blend of spices. The mixture may also include ingredients such as olives, capers, and raisins, which add a delicious contrast of flavors and textures. Our personal favorite combo is adding sweet plantains to the mixture.
Alternative Fillings
While picadillo is a popular and traditional choice for Cuban empanadas, you have plenty of options when it comes to filling your pastries. For a different savory option, consider making Cuban Sandwich empanadas, which feature typical Cuban sandwich ingredients like ham, roasted pork, Swiss cheese, pickles, and mustard.
If you prefer something sweet, try filling your empanadas with guava paste and cream cheese for a delectable dessert treat. Guava and cheese are a popular filling for Cuban pastries.
How to Make Cuban Empanadas
While there are a few steps to making empanadas Cubanas, overall they're pretty easy. I've included a few process photos of my abuela making them to help guide you.
Assembling and Sealing the Empanadas
Prepare the dough: You can use homemade dough or purchase pre-made dough at your local supermarket. Roll out the dough and cut it into discs using a round cutter or the rim of a glass.
Prepare the filling: Cook your spiced ground beef mixture until it is no longer pink. Be sure to add in plenty of sliced green olives for a delicious Cuban flavor.
Assemble the empanadas: Place your desired filling on half of each dough disc.
Seal the empanadas: Fold the other half of the dough disc over the filling and pinch the edges closed with a fork, making sure they are properly sealed to prevent filling leakage.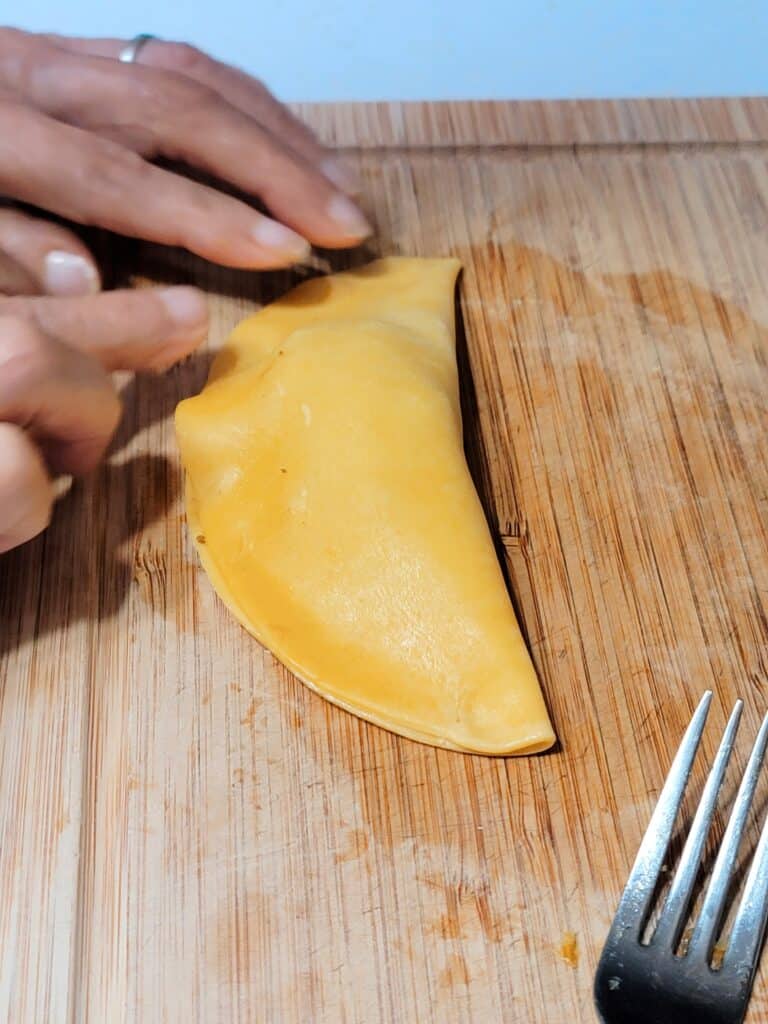 Cooking Methods
There are two popular ways to cook Cuban empanadas: baking and frying. Choose the method that suits your preference and keeps in mind the following tips:
Baking: Preheat your oven to 375°F (190°C). Brush an egg wash over the empanadas. Place the assembled empanadas on a foil-lined sheet pan that has been sprayed lightly with non-stick cooking spray. Bake the empanadas until they are crisp and golden brown, which takes about 20 to 30 minutes.
Frying: In a deep, large frying pan, heat cooking oil over medium heat for a few minutes. Carefully place the assembled empanadas in the hot oil and fry them until they are golden brown and crispy on both sides. Be sure to flip them gently, so the filling doesn't spill out.
Remember, you can easily double or triple this recipe if you're making empanadas for a larger crowd. Enjoy your freshly made, delicious Cuban empanadas!
Serving Suggestions and Tips
Cuban empanadas are a delicious and versatile dish that you can enjoy as a snack, for lunch, or even at parties.
Traditionally, Cuban empanadas are eaten on their own. There is no sauce or side.
But you can serve them with a chimichurri sauce if you prefer. Chimichurri is not Cuban but the flavors go well with meat empanadas.
Don't forget that empanadas also make for great leftovers! If you have any remaining after your meal or gathering, store them in an airtight container and refrigerate. You can easily reheat them in the oven or toaster oven later for a quick and satisfying snack or meal.
Lastly, when making Cuban empanadas, a few tips can ensure your success. Make sure to cook the ground beef thoroughly and drain off any excess liquid. This prevents your filling from being too greasy or runny. Also, take the time to properly seal the edges of your empanadas to keep the filling securely inside while they're being fried or baked.
By following these serving suggestions and tips, you'll elevate your Cuban empanadas to a truly memorable dish that's perfect for any occasion. Enjoy!
Yield: 10 Empanadas
Cuban Empanadas Recipe
Enjoy these savory and delicious Cuban empanadas, filled with seasoned ground beef (picadillo) and baked to perfection.
Ingredients
The Dough
2 ¼ cups flour
1/2 tsp Salt
¼ cup shortening or lard (chilled and cut into small pieces)
¾ cup warm water
1 egg beaten (if baking)
The Picadillo
2 tbsp olive oil
1 lb ground beef
1 yellow onion, diced
3 garlic cloves, minced
1 red bell pepper, diced
1 8 oz can tomato sauce
1 packet Sazon Goya
1/4 cup dry white cooking wine
1 tsp salt
1/2 tsp oregano
1 tsp cumin
1-2 bay leaves
1/4 cup pimento-stuffed olives
2 tbsp capers
Instructions
The Dough
Mix 2 ¼ cups flour and 1 tsp salt in a bowl.
Add the chilled shortening pieces into the flour mixture using your fingers or a pastry blender. Gradually add ¾ cup of warm water, mixing with your fingers until the dough comes together into a non-sticky ball.
Wrap the dough ball in plastic wrap and chill in the refrigerator for at least 30 minutes.
The Picadillo filling
In a large skillet pan, heat the oil over medium-high heat.
Add the onions and peppers, and cook for 2-3 minutes, until soft and translucent.
Stir in the garlic and cook for 30 seconds.
Add the ground beef and cook until browned. Break it up with the spoon as it cooks.
Add the wine, tomato sauce, spices, olives, capers, and potatoes to the pan.
Turn heat down to low, cover, and cook for 15-20 minutes.
Remove the bay leaves and let cool.
Assembly & Cooking (Baking)
Preheat oven to 375° F.
Remove the dough ball from the refrigerator and separate into 10 equal sized balls. On a lightly floured surface, roll out each dough ball into a thin circle.
Place a few tablespoons of the picadillo onto the center and fold half of the dough over, sealing the edges by pressing down with a fork or twisting the edges over to form a seal.
Brush the empanadas with a beaten egg.
Bake for 15-20 min until the empanadas are lightly browned.
Notes
Frying: If you prefer to fry your empanadas, assemble your empanadas and skip the egg wash.
Heat 3 cups of oil in a large pot to 360° F.
Gently place a couple empanadas in the hot oil making sure not to crowd them, cook for about 3 minutes per side until brown on each side.
Remove from oil and let drain on wire rack. Repeat with remaining empanadas.
Nutrition Information:
Yield:
10
Serving Size:
1
Amount Per Serving:
Calories:

349
Total Fat:

18g
Saturated Fat:

6g
Trans Fat:

0g
Unsaturated Fat:

10g
Cholesterol:

63mg
Sodium:

501mg
Carbohydrates:

25g
Fiber:

1g
Sugar:

2g
Protein:

16g
Frequently Asked Questions
What is the traditional filling for Cuban empanadas?
The traditional filling for Cuban empanadas is picadillo, a spiced ground beef mixture with lots of sliced green olives. This savory combination creates a delicious and satisfying filling for these handheld treats.
How do I make the dough for empanadas?
To make the dough for empanadas, follow the instructions in the recipe above. You can also buy premade pastry dough if you prefer.
What are some vegetarian options for empanada fillings?
There are plenty of vegetarian options for empanada fillings, such as cheese, spinach, mushrooms, or a mixture of vegetables like bell peppers, onions, and tomatoes. You can also try incorporating plant-based protein sources such as beans or lentils for additional flavor and nutrition.
What is the best way to cook empanadas: baking or frying?
Both baking and frying have their advantages when it comes to cooking empanadas. Baking is often seen as a healthier option, as it requires less oil and can result in a lighter, flakier crust. Frying, on the other hand, can produce a crispier exterior and is traditionally used in many Cuban empanada recipes. Ultimately, the choice is up to you and your personal taste preferences.
What side dishes pair well with empanadas?
Empanadas can be complemented by a variety of side dishes to create a balanced and flavorful meal. Some popular options include salads, rice, beans, plantains, or even a simple chimichurri sauce for dipping. Take the time to experiment with different combinations to find the perfect pairing for your empanadas.