Cuban Tortilla (Spanish Tortilla)
One of my favorite meals is my grandma's Cuban tortilla, which is pretty much her version of the Spanish frittata (Tortilla Española).
We eat it at any meal but growing up it was usually served at dinner, along with white rice, black beans, and salad. The tortilla alone makes a great brunch dish too!
It's such an easy and versatile recipe, and you can use any vegetables or meat you want. The traditional way to make it is with onions, chorizo, and potatoes, but we've done it with sweet potatoes and added cheese too.
My grandma always made it the same though – eggs, onions, garlic, white potatoes, Italian seasoning, and whatever shredded cheese she had on hand. Simple but delicious!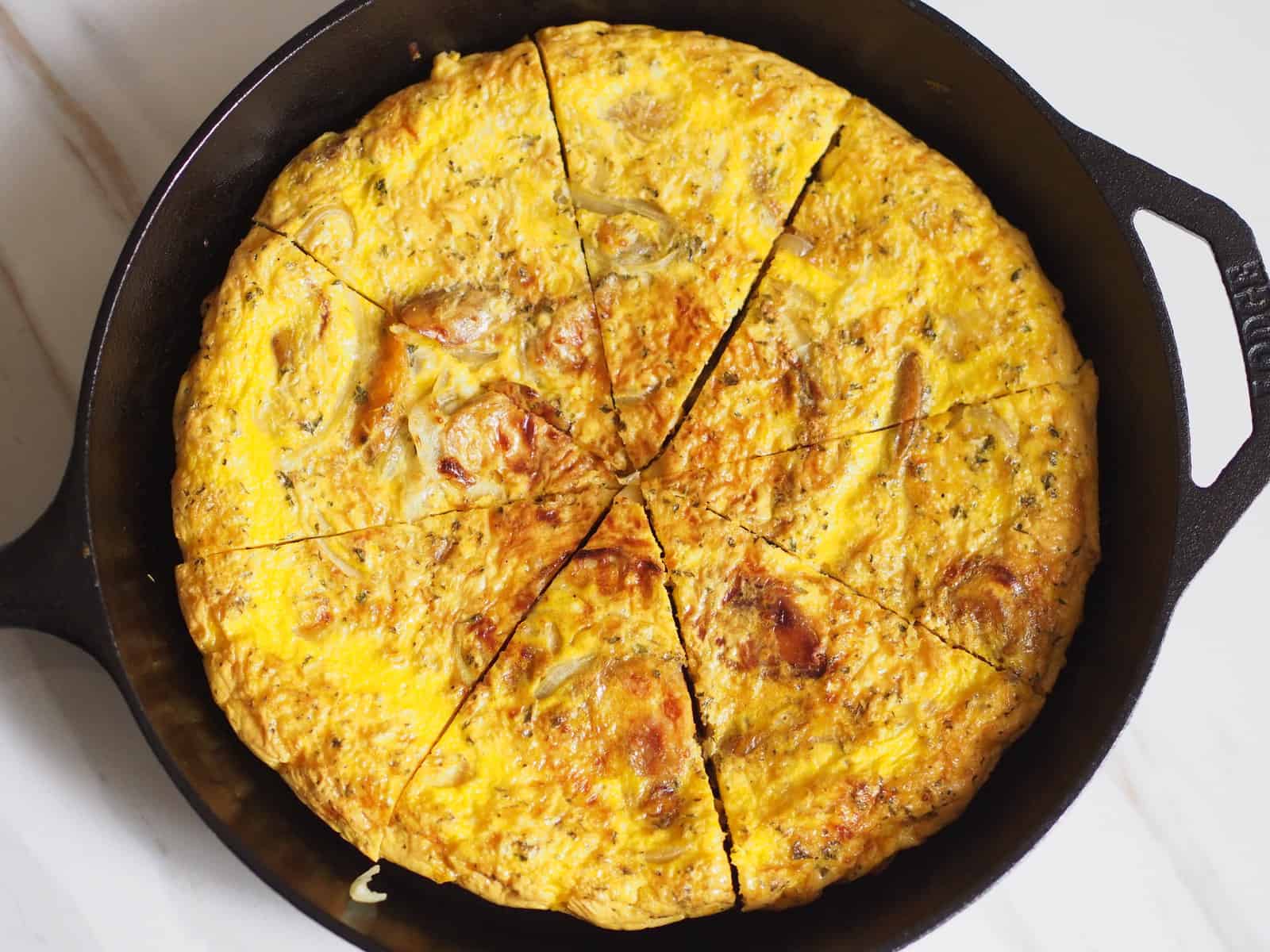 Tips for making Cuban tortilla
What makes this dish to flavorful are the ingredients. Keep things simple and choose onions, potatoes, and a meat if desired as your base.
Beat the eggs lightly.
Don't overbeat the eggs. Just lightly beat them until they're mixed well.
Take your time browning the onions.
The onions are where the bulk of the flavor comes from. You want to make sure they're caramelized so cook on low while you prep the other ingredients.
Slice the potatoes thin so they cook quickly.
Just after putting the onions on the heat, you want to add the potatoes so they can soften up and absorb some of the flavor from the onion.
Use a cast iron pan.
Making it in a cast iron pan makes it easy to start on the stove and finish in the oven. It also brings out the flavor of the onions and potatoes more than when using other pans.
Ingredients for Cuban tortilla
As I mentioned before, a traditional Spanish tortilla uses onions, chorizo, and potatoes. You can make it with any mix of the following, but I recommend not adding too much:
potatoes – white, red, sweet, any!
onions – sweet onions are best
fresh garlic – required for all Cuban dishes
spinach or kale
tomatoes
bulk sausage or chorizo
bacon
cheese to sprinkle on top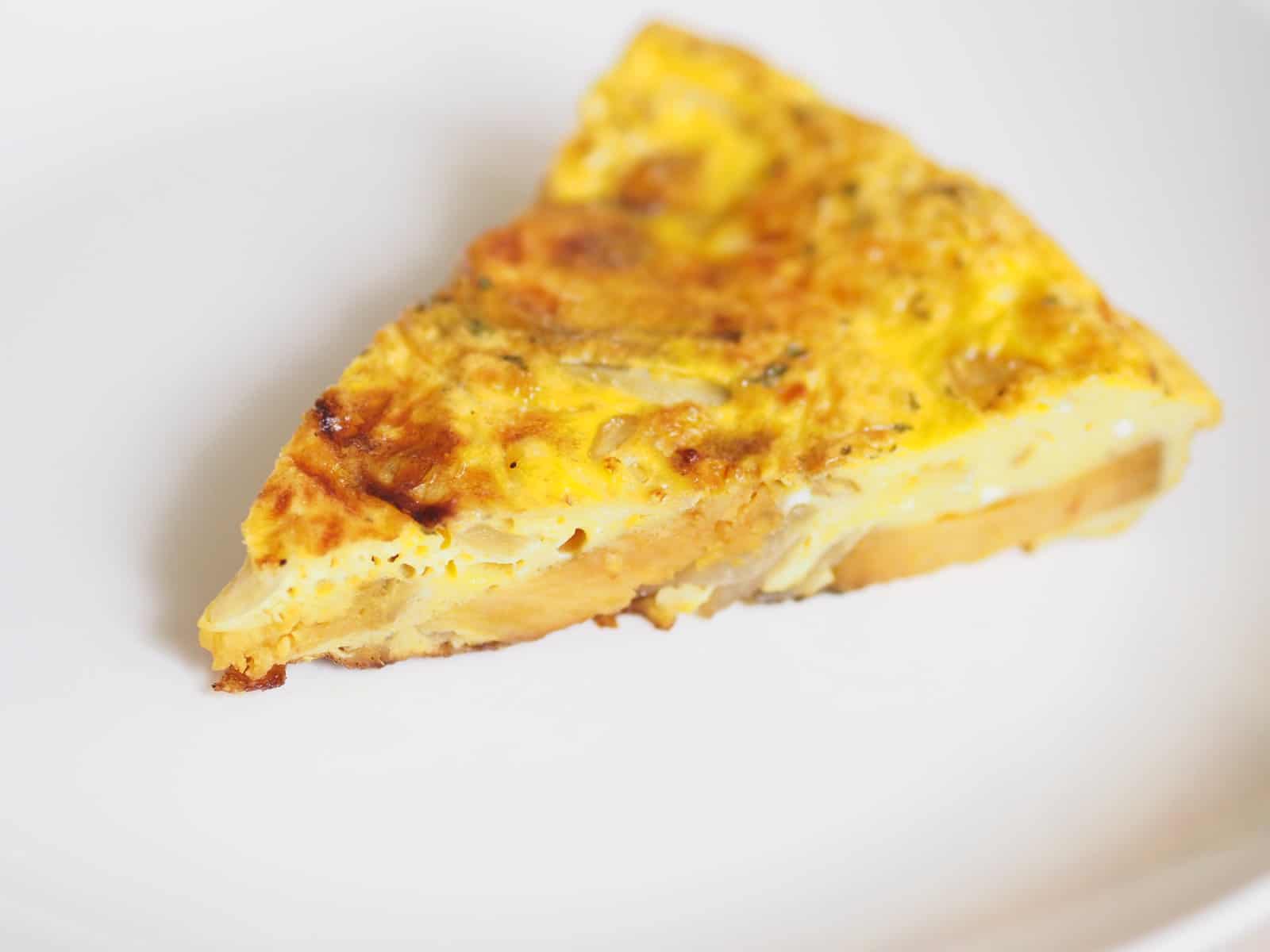 Yield: 8
Cuban Tortilla Recipe (Tortilla Española)
This Cuban version of the Tortilla Española is a delicious, cheap meal you can make for breakfast, lunch, or dinner.
Ingredients
12 eggs
1 yellow onion sliced
2 medium potatoes sliced thinly
2 cloves of garlic minced
1/2 tsp Italian seasoning
1/4 cup of shredded cheese
5 tbsp oil
Instructions
Heat 3 tbsp oil in a cast iron pan on medium heat.
Peel and slice the potatoes thinly and add to pan with oil. Season with salt and cook until the potatoes are soft and turning brown.
Spoon out the potatoes and set aside.
Add 2 tbs of oil and the sliced onions, and add a sprinkle of salt.
Cook for about 15 minutes until soft and starting to caramelize.
If you're adding meat or other vegetables add them to the pan now and heat through. Add back the potatoes to the pan.
Beat the 12 eggs and season with salt, pepper, Italian seasoning, and garlic.
Pour the eggs over the vegetables and shake the pan. Set oven to broil.
Cook for about 10 minutes, until the eggs start to set, then turn off the heat.
Sprinkle cheese on top.
Put the pan in the oven on broil. Keep an eye on it to prevent burning.
Remove after about 5 minutes, once the top starts to brown.
Notes
Sometimes it helps to cover the potatoes and onions when they are cooking to prevent them from burning.
Nutrition Information:
Yield:
8
Serving Size:
1
Amount Per Serving:
Calories:

246
Total Fat:

17g
Saturated Fat:

4g
Trans Fat:

0g
Unsaturated Fat:

12g
Cholesterol:

283mg
Sodium:

136mg
Carbohydrates:

11g
Fiber:

1g
Sugar:

1g
Protein:

12g
Let me know in the comments if you give this recipe a try! I hope you enjoy it.
Please share and pin!