Cuban Chicken Soup is the perfect comfort food that's packed with flavor and can be whipped up in no time. Chicken, vegetables, spices, and noodles combine to make this delicious and hearty soup.
What is Cuban Chicken Soup?
Cuban Chicken Soup, or Sopa de Pollo, is a typical dish found in Cuban homes and restaurants. It is a delicious and filling soup that can be made very quickly and easily. The key to this soup is using good quality chicken and vegetables, as well as the right spices to give it that authentic Cuban flavor.
It's similar to the American version of chicken noodle soup but with a lot more flavor.
Any time one of us was sick as a kid, my grandma would make a big batch of chicken noodle soup. And now as an adult, I still make this soup every time one of us gets sick in our house.
If you live somewhere cold, then this is also a great meal for the cooler days.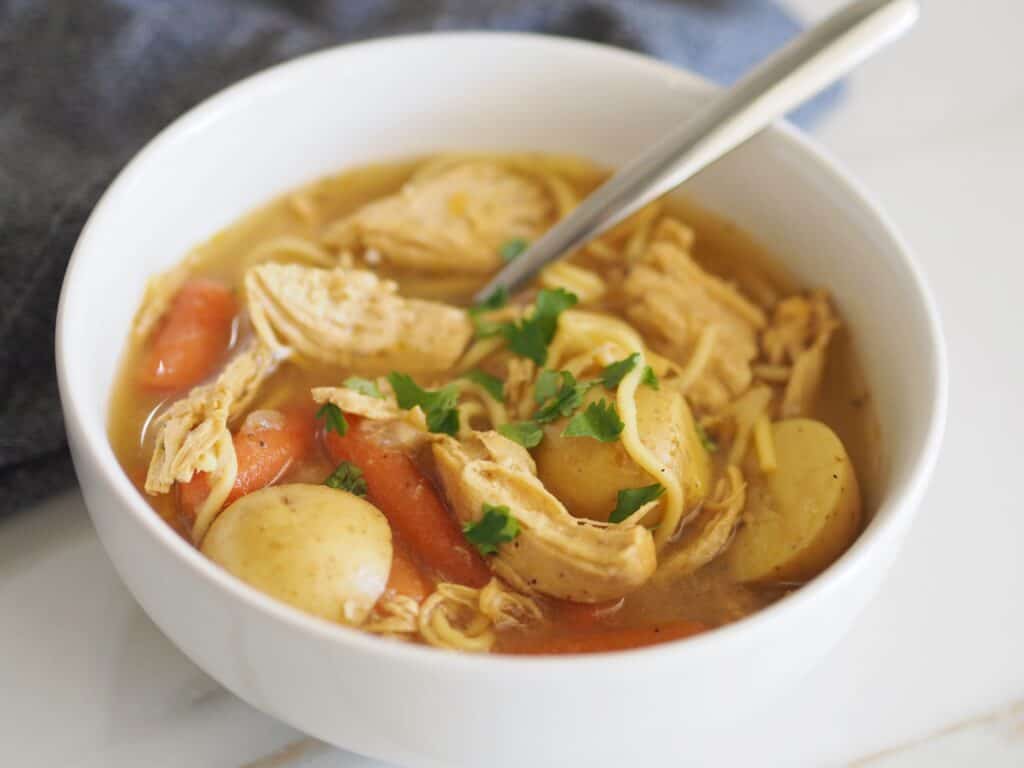 Tips for making Cuban Chicken Soup
Follow these tips for the best results when making your soup.
Don't skimp on the spices.
The spices are what give this dish its flavor so try your best to use the spices called for in this dish.
I find the Sazón Goya and bay leaf to be key in getting that authentic Cuban flavor.
At the bare minimum, include onions and garlic.
You can't have a Cuban dish without these base ingredients. If you don't have much to toss into the soup, these are the minimum requirements.
Add whatever vegetables you have on hand.
Pretty much anything works in this soup. I usually do potatoes, onions, garlic, and carrots. Sometimes my grandma adds pumpkin and malanga.
Use whatever cut of chicken you prefer.
I tend to have thighs and breasts on hand so that's usually what I use, but you can use whatever you like. Just be sure to adjust the cooking time so you don't overcook the chicken.
Use a large pot or a pressure cooker to speed things up.
My grandma usually made this in a large pot, but I prefer to make it in a pressure cooker just because it's a bit faster. If you already have cooked chicken to use, then you can just make it in a pot in less than 30 minutes.
Ingredients for Cuban Chicken Soup
A traditional Cuban chicken soup has chicken, carrots, white potatoes, onions, garlic, and noodles. You can make it with any mix of the following:
potatoes – white, red, sweet, any!
onions – sweet or yellow are best
fresh garlic – required for all Cuban dishes
carrots
chicken – thigh, drumstick, breast, wings, whatever you like
Sazon Goya
bay leaves
chicken stock
oregano
noodles – angel hair is best
corn
squash
lemon juice
tomato paste
greens like spinach or kale
How To Make Cuban Chicken Soup
I like to make my Cuban Chicken Soup in the Instant Pot because I can do it all in one pot in under 30 minutes.
First, brown the chicken using the Sautee mode on the pot. While the chicken browns, chop all the other ingredients.
Remove the chicken and set aside on a plate. Sauté the onions in olive oil until they soften. Add the potatoes and carrots and stir for a few minutes. Add the garlic and cook for 30 seconds.
Add the chicken broth, seasonings, tomato paste, and chicken.
Cover and set the valve to sealing. Set the pressure cooker to 8 minutes on "manual". Pressure release right away.
Remove the chicken to shred. Add the shredded chicken back to the pot.
Set the pressure cooker to 'sauté' and stir in the noodles and lemon juice. let cook for about 7 minutes, until the noodles soften.
Yield: 10 servings
Cuban Chicken Soup Recipe
Say no to bland chicken soups and try this easy and delicious, hearty Cuban Chicken Soup that's packed with flavor.
Ingredients
1-2 pounds of chicken breast
2 tbsp olive oil
8 cups chicken stock
1 yellow onion, chopped
4 cloves of garlic, minced
2 cups of carrots, chopped (or use baby carrots whole)
3 cups of potatoes, cubed
2 tbsp tomato paste
1 packet Sazon Goya
1 tsp dried oregano
1 bay leaf
2 tsp salt
1/2 tsp black pepper
8 oz dried thin spaghetti noodles (angel hair pasta)
juice of 2 lemons
Instructions
Set the Instant Pot to the 'saute' function. Brown the chicken by searing for a few minutes per side. Chop the rest of the ingredients while the chicken browns.
Remove the chicken from the pot and set it aside on a plate
Add the olive oil to the pot and toss in the chopped onions. Cook for 3-4 minutes until the onions start to brown.
Add the carrots and potatoes and cook for 2-3 minutes.
Stir in the garlic and cook for 30 seconds.
Add the broth, stock, sazon packet, oregano, tomato paste, salt, and pepper and stir until combined. Place the chicken back into the pot and close the lid. Set the valve to sealing.
Set the pressure cooker to 8 minutes on 'manual'. Release the pressure when the timer goes off.
Remove the bay leaf and the chicken and shred the chicken using a fork. Add the shredded chicken back to the pot.
Set the pressure cooker to the 'saute' function. Add the noodles and the lemon juice. Cook for about 7 minutes, until the noodles soften. Add water if necessary.
Whether you're fighting off a cold or just need some comfort food, this Cuban Chicken Soup is the perfect recipe for you. It's easy to make and packed with flavor. I hope you enjoy this recipe as much as my family and I do. It's definitely one of our favorites!